LONDON & SOUTHERN COUNTIES B.S. NEWS – April 2018 - by Rupert Redden, Publicity Officer
The Society held its AGM on 18th February at its usual venue in Smallfield, Surrey. The Society's Chairman, Ghalib Al-Nasser, opened the meeting and welcomed all those who attended. A minute's silence was observed for those members who had recently passed away, namely Barry Wiseman, Vic Springett, Frank Sains and Denis Ball.
Speakers for the day were Sandra & James Gillan with James giving a power point presentation on how they got involved in the hobby from 2009 with his dad doing the aviary rebuilds and mum helping with the birds; to a top class Intermediate partnership winning many awards on the show bench that included many best in shows. Their ultimate win was when they were crowned World Champion in 2015 at the B.S. Club Show when they were only novices. They showed pictures of various birds brought in from top breeders in this country such as Alex & David Woan, Gren & Pat Norris, the Luke partnership and the Bowkers. They showed photos of their pairings with results which showed the progressive improvement to becoming World Champions!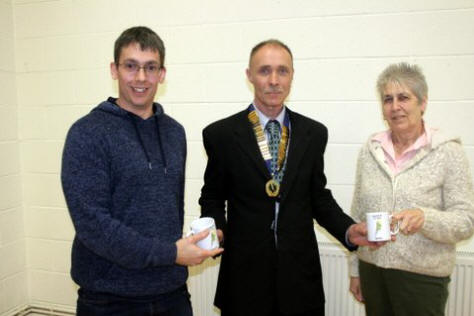 Tony Jeffrey, the outgoing president with Sandra & James Gillan
It was a very informative presentation, also answering questioned from their feeding habits to their stock control, also on their acquisitions/outcrosses and blood lines they stressed that they were careful to bring in the correct features required to improve the stud. Members present showed their appreciation for an interesting power point presentation that had lots of useful commentary and was enjoyed by all.
At the AGM that followed the presentation Officers elected for 2018 were as follows: David Harmer, president; Tony Cash, president elect & secretary; Malcolm Parsons, subscription secretary; Paul Tiller, treasurer; James Folly, patronage secretary and Ghalib Al-Nasser & Rupert Redden joint Newsletter editors. The general committee to consist of all above and Tony Jeffrey, Jim Lawrie, Peter Merritt, David Rafis, David Rice, Richard Tessier & Tony Wilkinson.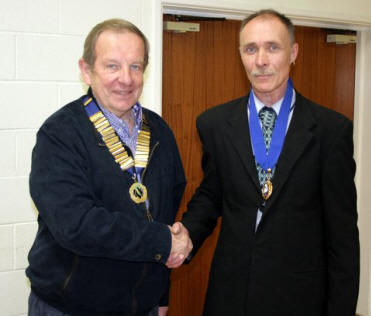 David Harmer receiving the Presidential Chain of Office from the outgoing President Tony Jeffrey
Tony Jeffrey, the outgoing president, was called upon to present the Blue Riband and Chelfers Awards to their winners. The Blue Riband cup was won by the Ellis & Mathews partnership while the Chelfers Awards were won by Ellis & Mathews (champion), P & S Stevens (intermediate), Mark Bannister (novice), Graham Paine (beginner) & Millie Roberts (junior).
| | |
| --- | --- |
| Tony Jeffrey presenting Graham Paine with his beginner Chelfers Award | Ghalib Al-Nasser presenting Peter & Sandra Stevens with their intermediate Chelfers Award |
Tony Jeffrey awarded The President's Trophy to the Society's patronage secretary James Folly for all his work for the Society and his local club.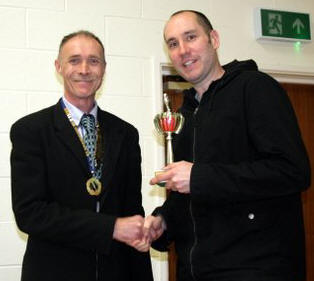 Tony Jeffrey awarding the President's Trophy to James Folly, the Society's patronage secretary
The Society also awarded two of its members the Silver Star namely Martin Frost and Malcolm Parsons for their work over many years to many local clubs.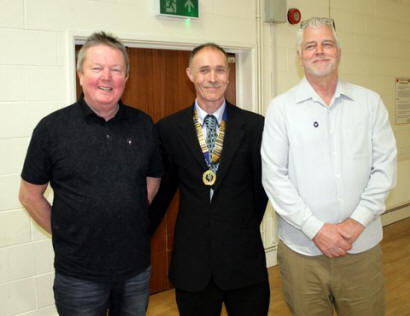 Tony Jeffrey with the Silver Star holders Malcolm Parsons & Martin Frost
Ghalib Al-Nasser, shows organiser, informed the meeting that judges booked for the Society's combined Specialist & Rare Variety Show & Young Stock Show on 14th July are Graham Barton & Roger Carr. For the Area Show on 14th October judges booked are Bob Francis, Dave Game, Gary Hale, Tony Pope and Christian Bach (Germany). The Inter-Club Competition will be held on 11th November with a presentation in the morning by Trevor Terheege followed by lunch then judging the inter-club competition. The Chairman also informed members that the Society's website www.landscbs.org.uk was updated with a fresh look.
The meeting was brought to a close with the Chairman thanking everyone for attending and to James & Sandra Gillan for their presentation.
At the committee meeting that followed the AGM Ghalib Al-Nasser was re-elected chairman and shows organiser with Paul Tiller vice chairman and Rupert Redden & Ghalib Al-Nasser as joint publicity officers. The shows committee was re-elected again as Ghalib & Janice Al-Nasser, James Folly, Tony Jeffrey, Malcolm Parsons, Paul Tiller & Brian Scott. The Silver Star committee to consist of Ghalib Al-Nasser, Tony Cash, David Rafis, Richard Tessier & Paul Tiller.
Subscriptions can be sent to the subscription secretary Malcolm Parsons (46 Melrose Avenue, Worthing, West Sussex BN13 1NX). The rates are single £13, partnership at same address £15, other partnership £13 each, OAP & disabled £8 and junior £6.
For more information about the Society please contact the secretary Tony Cash on 01329 231554 or tony@southern-heating.co.uk or visit the Society's website on www.landscbs.org.uk
---
Chairman's Message – February 2018
No doubt most of you are in the middle of the breeding season and I wish you every success that you deserve. With us it is a very disappointing season so far with many pairs having clear rounds, a few hens have died and few did not lay and only 15 chicks rung by end of January. However, apart from these setbacks no doubt a few of you would have also experienced the problem of ring delivery this year. I must admit with all my years in the hobby since 1971 this is the first time that I have heard of such problems with the ring manufacturer so I feel for those members who have been affected by this long delay.
We had a successful year last year with 3 successful events staged by your Council. The SRVOS/YSS was reported in the August Newsletter and with this Newsletter you will see the results of the area show (October) and the Inter-Club Competition (November). Both events had an international flavour to it whereby we had a fancier from the USA, Greg Arena, attending the show and joining our society and for the November event we had Maarten Heylen, a successful fancier and judge from Belgium, attending as our guest speaker and judge and he had Bob Wilson (USA) accompanying him for the trip. It was very pleasing to listen to Maarten explaining to the attendees his method of breeding, feeding and showing.
For me the year was marred by the passing away of two good friends namely Barry Wiseman (October) and Vic Springett (November). Vic, with his late wife Doreen, were my mentors when I started in the hobby back in 1971 in Southend on Sea. They taught me all I needed to know about show management, both in the office and on the floor, and it was an acceptable joke that I was their surrogate son. Barry was a great gentleman and friend to many and a very successful exhibitor. Only recently I heard of the passing of Frank Sains who was a founder member of Mid Essex BS. Our condolences are extended to their families.
Our society website had a face lift recently when we engaged Terry Tuxford to do the job for us. We extend a special THANK YOU to Tony Cash who looked after the website for the past few years and was also our Newsletter Editor until recently when he vacated both posts. Thank you Tony for a job well done.
We have invited the World Champions Sandra & James Gillan to be our guest speakers at the AGM to be held on Sunday 18th February so I hope that many of you will attend and make their trip from Norwich worthwhile. See you at our first event of the year.
Ghalib Al-Nasser, Chairman
Future Events
SRVOS/YSS Saturday 14th July 2018
Area Show Sunday 14th October 2018
Inter-Club Sunday 11th November 2018
---