Quick Profile - James Lawrie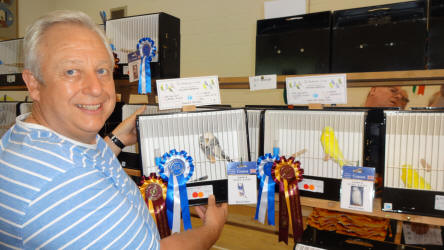 What you like to be called? Jim
When did you start in budgies? 1967. But have been in and out of the hobby 4 times. I last returned in 2006-07.
Favourite colour/variety (Budgie) Any colour if a quality budgie. If pressed I like dark factor series birds, preferably blues.
Favourite colour (non-Budgie) Blue.
Pizza or Burger? Neither now. I was recently diagnosed with diabetes, so would now choose chicken or fish.
Book or Kindle? I'm a modern-day Luddite. So, books are my preference.
Additives fed to budgies? Only feed in finger-drawers -Thrive and Gloss mixed with dried seaweed; Murphy's minerals and Breed Pro Plus
Best Budgie moment? Winning BIS in 2014 with two different Grey cocks at South Hants and Swindon Open shows. Again in 2016, won BIS at both of these shows with a Sky cock.
Budgie clubs you belong to? South Hants, BS and L&SCBS.
Other hobbies? Surviving 2 divorces!
Other clubs you belong to? None
Favourite holiday destination? None at present.
Average number of budgies kept? 150
Softfood recipe? Just Witte Molen moist egg food.
When do you have birds for sale? Normally sort out end of September after the BS Club show. Although there are usually some birds for sale throughout the year.