Quick Profile - David Rafis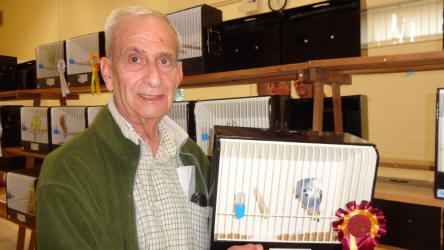 What you like to be called? David
When did you start in budgies? 1948 at the age of 10 and as a hobbyist and then in 1990 as a breeder and exhibitor.
Favourite colour/variety (Budgie) – Anthracite - I am trying to breed a yellowface anthracite in 2020.
Favourite colour (non-Budgie) - Orange/Tangerine
Pizza or Burger? Burger
Book or Kindle? Book
Additives fed to budgies? Birdcare Products
Best Budgie moment? Making a clearbody cock a colour champion in 2009 and him winning Best Clearbody Young Bird at the BS Club Show and receiving the cup.
Budgie clubs you belong to? Ipswich BS, ASBS, CBBA, LABS, L&SCBS, LEA and the BS.
Other hobbies? Not any more - played football and cricket for 45 years.
Other clubs you belong to? None - was Chingford CC and St. Pauls Crescent FC.
Favourite holiday destination? Skiathos, Greece.
Average number of budgies kept? 100-120 in breeding season and 50 at other times
Softfood recipe? Orlux in blender with carrots, apple, celery, sweetcorn, dried mealworms, spinach, honey and cod liver oil.
When do you have birds for sale? Mainly April to September each year.